"Effortless & Efficient. Myers helps us continue to innovate with cost effective solutions we love."
–
Allen Beckner, NRB TV
Find Out Why Christian Broadcasters Rave About ProTrack
Rapid and constant industry changes have made it more challenging than ever for Christian broadcasters to stay focused on Mission-driven activities. ProTrack is here to help:
ProTrack was developed by Myers, an industry leader who has been providing groundbreaking broadcast solutions for over 30 years.

We are trusted by leaders in the faith-based industry, including the NRB Network, Seventh Day Adventist Church,
and Trinity Broadcast Network.

ProTrack is an integrated broadcast management platform designed to help you keep pace with the industry; scaleable, flexible and affordable, it's built to help your mission thrive — even in the face of rapid change.
Schedule a meeting with us at Proclaim18
ProTrack.

Because Nothing Should
Come Between You and Your Mission.
These Clients Count on ProTrack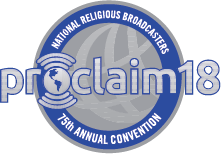 Visit us at Proclaim18,
February 27-March 2, 2018
Nashville, Tennesse

Booth 720