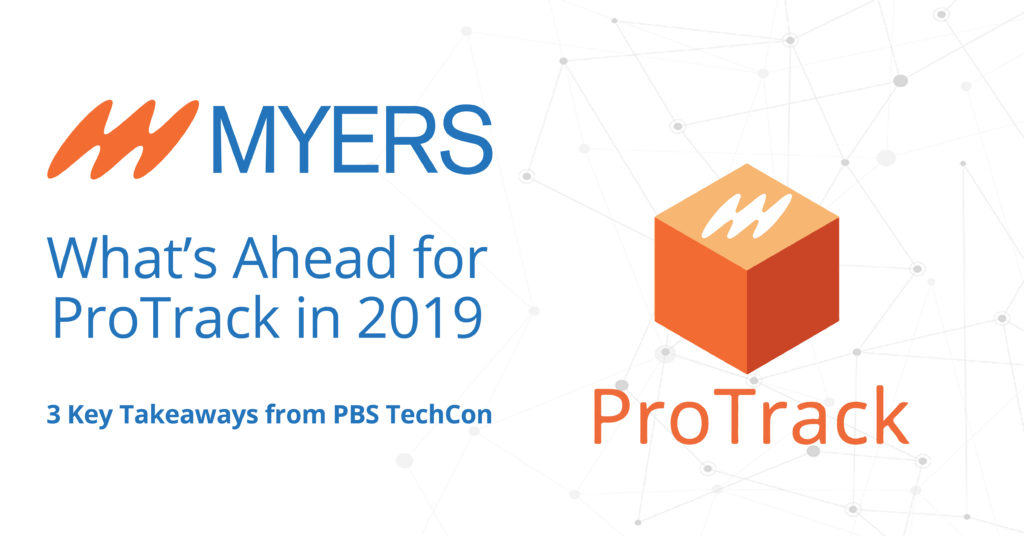 At this year's PBS TechCon, Myers hosted a ProTrack User Workshop that focused on providing users with best practices and sure-fire ways to maximize their ProTrack experience. In addition, we also shared an in-depth look at what lies ahead for the product in 2019. So, without further ado, below are the key takeaways of the ProTrack evolution.
Revenue Generation
ProTrack 7.0 introduces a new sales environment to the ProTrack platform providing the necessary toolsets to combine and automate sales activities. Moreover, users can initiate and close the contractual loop, track performance, calculate projections, and review historical data in one system. Additionally, joint licensees, using ProTrack TV and Radio, can reap the rewards of one singular database to house their account and contact data. This equates to one order and one invoice for their customers.
Additional benefits include:
Real-time inventory management, allowing sales teams to quickly identify avails and maximize revenue-generating opportunities before they expire.
Identify opportunities and sell across all platforms — TV, radio, linear, nonlinear, online, events, print, and more.
Manage the entire sales cycle – from contacts, prospecting, and proposals to sales orders, placement tracking, invoices, affidavits and even receivable information.
Track performance and project revenue as well as access historical data for comparative analysis and planning purposes.
Cloud-Hosting
Users were very excited to hear that we now offer a new and improved cloud-hosted solution for our ProTrack broadcast management system, called ProHost 2.0. The benefits that come along with this solution run deep and include lessening your company's physical and financial IT burden – i.e. you can forget about replacing servers, upgrading operating systems, and working on complicated backup and disaster recovery plans.
Relying on ProHost 2.0, users will be afforded:
Software that is always up to date
Automated back-ups that protect valuable metadata
The ability to maintain operations in the event of an emergency
Constant monitoring to ensure data is safe, secure, and less prone to hacks
A lower overall investment when you look at the total cost of ownership
Capitalizing on Digital Media
It is no secret that consumers want their content when and where they want it and a pivotal component of that resides in the digital media landscape. Historically, digital rights only allowed for content to be played after it has already been aired. The times they are a changing! As public broadcasters move to being able to capitalize on digital live streaming, so too does our ProTrack software. As content becomes available for digital live streaming, ProTrack users will be able to:
Manage the digital rights associated with each piece of content
Better understand what has aired when and where, giving them the ability to monetize content
Manage the digital content's lifecycle throughout ingest, playout, storage, and reconciliation
Stay tuned for more updates, as this new functionality becomes available.