A Technical Viewpoint from Myers Director, Technical Support, Chris Martin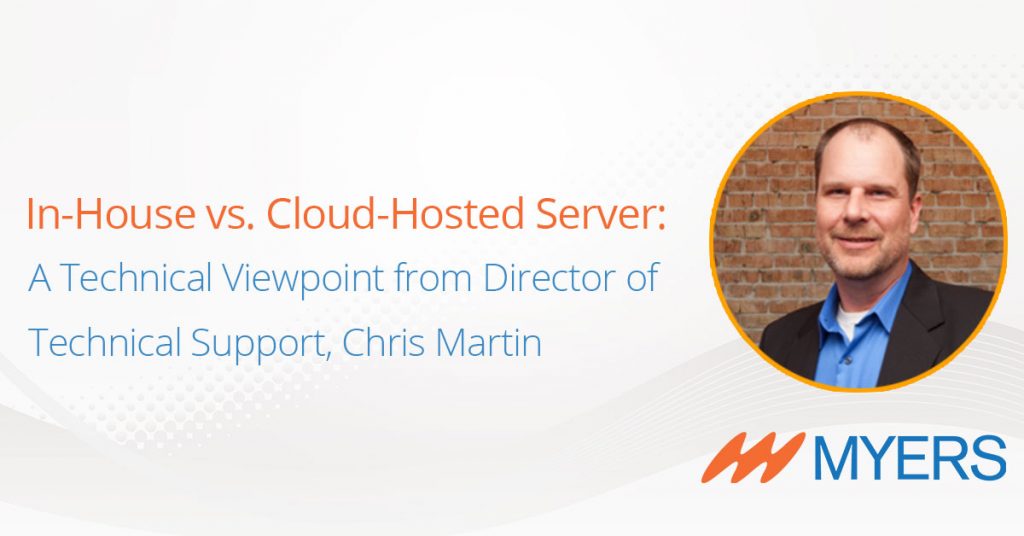 When comparing in-house vs cloud-hosted servers, it can be hard to decide which is the right option as it is dependent upon each station's unique needs, infrastructure, and resources.
When choosing to run ProTrack on an in-house server, the station itself is responsible for choosing the appropriate physical hardware, having it installed and set up, and are then providing the necessary monitoring and maintenance to ensure systems and hardware are up-to-date and operating effectively. Prior to cloud technologies, this was the only way that stations ran ProTrack.
Myer's ProHost, is a dedicated cloud-based ProTrack solution that provides all the benefits of an in-house server along with some added benefits. A station still has complete control over all their information but the need to purchase and maintain a physical server is eliminated.
With the ProHost solution, a station is responsible for a single upfront cost and then the entire set-up and ongoing maintenance are fully managed by the Myers team, shifting the burden of 24/7 accountability and maintenance off the in-house user. The solution is built on the latest Amazon Web Services technology, which is highly secure and configurable, meaning that it will scale with the operation-at-hand as needed, so your cloud-based server will continue to run smooth and always be up to date.
On top of scalability, a cloud-hosted server allows for consistent and easy backups of all the station's information housed within ProTrack. To perform a backup of the information on an in-house server is always possible, but does take up more time and space as the station employees are responsible for carrying out that task and housing the physical back up information. Knowing your information is securely in the cloud provides vital peace of mind that no matter what may happen, that information is always protected. In the event of something happening on a larger scale that could compromise an in-house server, this cloud-hosted solution is able to provide disaster recovery, allowing for quick access to your information through restoring those backups so you can keep moving forward, business as usual, without skipping a beat.
With ProHost and the Myers team, our customers can rely on the cloud-based benefits they would expect, along with the convenience and reassurance of having all of their ProTrack integration points within their own network.
Additionally, our Technical Support team can use an in-house control panel to monitor the environments we host with ProHost, 24/7. The control panel alerts our team to any system issues, allowing us to resolve errors or issues before they become outages. This allows our customers to double down on a more efficient operation and eliminates the guesswork that comes with maintaining an in-house server.
I encourage those not using ProHost to contact us to discuss the specific benefits that it can afford their own station operation. More specifically, we can walk through each station's own unique workflow or requirements to ensure that ProHost provides the exact solution you need so you can run your station to the highest and most efficient standards.