Additionally, Myers will serve as a silver sponsor and exhibitor at PBS TechCon, April 3-5, 2019
Northampton, Ma. — Myers, a pioneer in broadcast management solutions, has announced a new ProTrack User Workshop happening ahead of PBS TechCon April 3, 2019 from 10AM – 12PM. The workshop, part of what show organizers are calling Beyond TechCon, will provide a hands-on experience led by the Myers team with input from TAC, the Traffic Advisory Committee. There is no cost to attend, but seating is limited, so registration is required. Registration can be added as an option when registering for TechCon.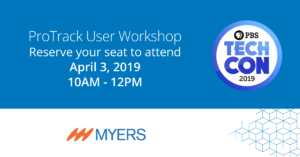 PBS TechCon, happening April 3-5, 2019 at the Flamingo Las Vegas, serves as an opportunity for professionals in the public television industry to come together to share new ideas through education, professional development, and technology. Myers, a long-standing silver sponsor and exhibitor of PBS TechCon, will have a handful of their team on-site to not only lead the User Workshop and exhibition, but to participate in conference informational sessions as well. Myers and TAC will co-present a session on Traffic and Scheduling during the conference, time tbd.
"As a technology partner to the majority of Public Broadcast Stations, we find the PBS TechCon an invaluable opportunity to connect with and support our customer base and the greater industry at-large," shared Crist Myers, President and CEO, Myers. "The User Workshop happening ahead of the conference will surely provide direct value to our customers looking to maximize their investment and we hope they will take advantage of that."
At the Myers booth, attendees will find staff ready to answer questions and provide demos of ProTrack's latest features and functionality, which includes major updates to their infrastructure and sales environment. Additionally, they will share a preview for what's ahead in 2019, focusing on web-based browser accessibility and cloud technology advancements.  For more information, visit myersinfosys.com or contact Myers at sales@myersinfosys.com.
ABOUT MYERS
Founded in 1982, Myers has been a pioneer in developing broadcast management software for the rapidly evolving media landscape. Myers' extensive domain knowledge and systems integration expertise has served as an integral part in the development of a suite of software products and services that drive distribution workflows across multiple departments and systems. Media facilities large and small utilize and benefit from our unique, scalable broadcast management solution, helping them improve operational efficiency and profitability.  For more information, please visit: www.myersinfosys.com.